Behind the Scenes of System76: Customer Happiness Team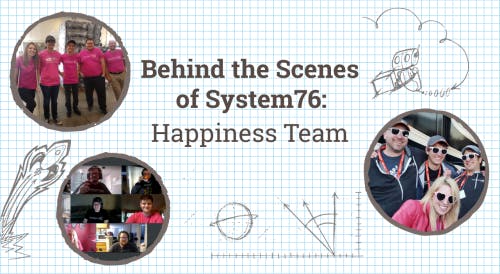 In this installment of our Behind the Scenes series, we spoke with head happiness guru Emma Marshall, an enthusiastic Linux, pink, and T-Swift enthusiast who helms the Support Team. Read on for an inside look at the methods—and the madness—of System76's tech support crew.
First off, let's talk a little bit about the Customer Happiness Team's role at System76.
We handle the customer experience after the sale. We want our customers to know that we care about them, and we make sure that they're feeling like they're getting the attention they deserve when they do have a problem. We also make sure that they're happy at the end of their solution.
If a customer has a specific complaint, or if we see something that hasn't been communicated correctly that gave them a wrong impression, then I communicate with the other departments in a productive and positive way so we can get to a better solution as a company. So I report things to QA, we get bugs filed and handled, and we ask questions to engineering when we don't know how to fix something. We try to collaborate as efficiently as possible.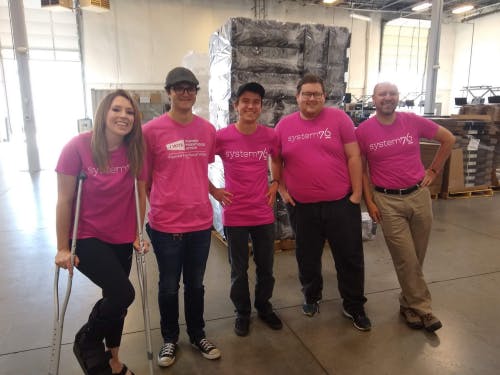 As the head of all things Happiness, what is your approach to the process of providing support?
We have this little acronym, it's the H.A.P.P.Y. approach to tech support. The H stands for Human. Instead of using scripts and sending out links every time, we'll put the actual solution in the ticket and we'll greet them with empathy and their name. We don't have any automated things happening in there. Nothing is robotic in tech support. Everything is handled by a human.
The A is for Active, meaning we keep the tickets active until they're resolved. So if a customer has gone quiet, or if a repair tech has gone quiet, we make sure to ping them constantly until the problem is 100% taken care of.

The first P is for Positivity, which helps keep our customers and our team happy, and the second P is for Productive - we want to keep our queue moving as quickly as possible. We don't want to ask questions that aren't relevant to the case. We want to keep customers on the track of being productive as well, so if they're focused on voicing negativity, we try to steer the conversation in a more productive direction to keep everyone focused on reaching a solution.
And then the Y is for You. We encourage everyone on the team to be their nerdy selves, so if a customer mentions something they love, they can chime in and nerd out with the customer for a few minutes and have that little touch of their personality to the call or to the ticket. So that's our H.A.P.P.Y. approach to tech support.
This year was the System76 Care Team's "happiest" year on record. What do you think made it so successful?
It's a combination of the work of everyone in the company. I think we have a mix of really good products, incredible engineering, a QA team that caught potential issues before shipping products, and a sales team that provided the right information so the customer purchased the best product for them. And then a support team that made sure things were solved quickly and happily at the end. That's what we strive for every year! I also have an epic team right now.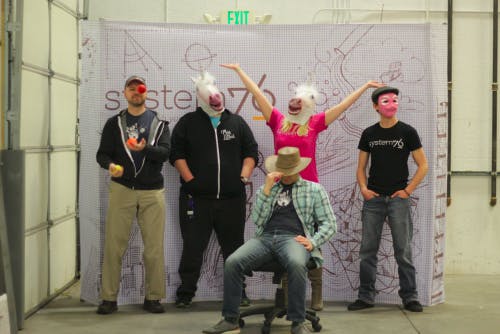 How would you describe you and your team's backgrounds in Linux?
They're all Linux fans. Two of them are customers, and one of those customers is a SuperFan! I used to have another Superfan on the team, so that seems to be a trend for us. Two guys on our team did tech support for colleges, so they have server and sysadmin backgrounds, and then we have two team members with customer service backgrounds as well.

I actually met Thomas at a Linux conference when he was still a customer service rep for an office supply company. He was clearly like all of us: a complete nerd. He just naturally fit. We all have our nerdy quirks and come from very different backgrounds, but combining our knowledge and collaborating helps us solve the tickets with the same quality. The individuality on the team is what makes it so fun!
I went to school for journalism and worked for a couple newspapers. Then, I had a customer service job for a couple of years. After that I came to System76. Actually I just reached 9 years of working at System76 today! I've done every single role at System76 basically, besides being an engineer. My last positions were a combination of customer service and communication. Communication is by far the hardest part of my job, so that experience has really helped me gain better communication with everyone across the company.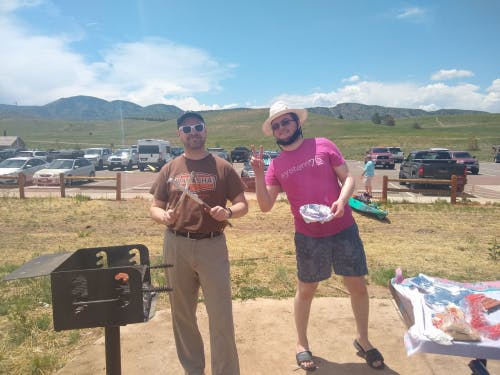 How do you ensure your team stays close amid the chaos?
We all do game nights together. We have a really tight bond as a team, which I think really contributes to our success.
Are there any new "features" planned for the Care Team in the near future?
A major focus for this year is one-and-done tickets, as well as cutting down on response times. We want to get everything we can in the initial message to the customer to hopefully get a solution accomplished within one message. The team has been doing a contest the past couple months, and it is amazing how many tickets they can get one-and-done. So I know we can do that sort of motivation work a lot more often to get tickets solved quicker, and have less in the queue for longer periods of time. It'll be awesome.
Any advice for people looking to start their tech career in a support role?
I think it's important to have a customer service background. And I mean any customer service, even working at a retail store. Being a human and putting yourself in other people's shoes is such an integral part of being a tech support technician. Anything where you have to communicate with other people for a year. At least get some of that under your belt.
And if you're a hobbyist, just keep learning. Learn everything you can all the time. You can't know enough as a tech support rep, and you have to always be curious. Be curious about the problem and be curious about the solution. You have to have a desire to always want to find answers and find new ways to fix things.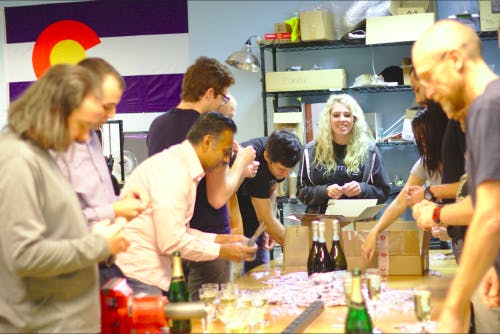 You're one of System76's longest-running staff members. What's it been like to watch the company grow?
It's been unreal. Amazing. It actually makes me tear up a little because I couldn't be more proud of a project that I've been a part of, you know? It's been very cool watching Carl as an owner and as an innovator. To have someone that inspires you so much, and to be able to be part of their project as well makes me not want to go away. I can't wait to see what's going to happen next. That's the best part.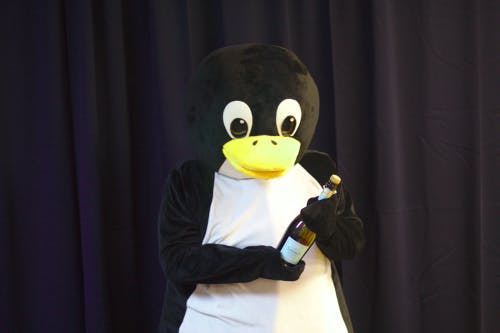 Do you have a favorite moment?
I have two. Wait… I have a lot. But I'll try to keep it to two. The Pop!_OS release in 2017, when we released the operating system and were flashing USBs, like hundreds of USBs in this side room. We were in an office building, but we were actually starting to try to manufacture things with a laser in this side room that had black curtains so no one could see what we were doing in there. So all of us bunched into this really small room and we popped champagne bottles and they were flashing the USBs. They were all over the table. It was so cool. I think we all got a little tipsy that day. Maybe a lot tipsy, actually.
Then we had our first million dollar month. That was when our office was downtown. It was a day of celebration for everyone. It was the realization of how big we'd become. There was so much laughing and excitement, and we were a small, tight-knit team at the time. I remember that day feeling like, wow, we're really doing well. That was a really cool feeling.
Do you miss being at the office?
Oh yeah. I think it gets to me some days. I miss everyone, and I just want to be around people. I want to go bug Bjorn, or make people smoothies, or flip some hamburgers or bring lunches. I want to do all that fun stuff that I used to, but now I'm having to try to manage that remotely. But the video calls, those help.
The game nights help as well. We used to do those in person, but we can't really do them in person right now so I'm having to settle with remote things. It's been rough, but it's something we've got to deal with, just like everything else. So deal with it with a smile and we'll get through it.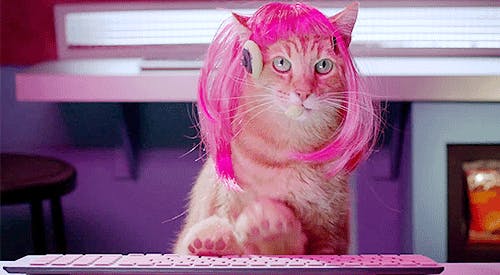 What's your favorite cat gif?
I have a lot. Fixing time clocks is an annoying little task. Sometimes the time clock we use just poops and doesn't work right, so my rule is any time I have to fix the time clock for a team member, they have to send me cat gifs. That's their payment. So I get quite a few cat gifs every week. In our team chat, any time I'm upset about something, the cat gifs come in a waterfall.
The one that really sticks with me is the cat with the pink wig on, and a headset, typing on a computer. I saved that one myself.
I can't help but notice I'm in a couple of these photos.
You're one of us, Alex. Just accept it.