SpoOoOoOky Update: Murmurin's of a Pop!_OS October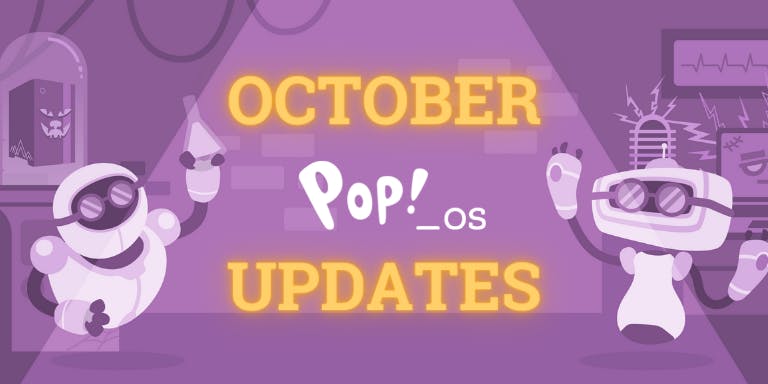 Our spooky tale begins five years ago:
'Twas a dark n stormy night. The developers were clackin' at their keyboards, sweat oozing from their brow. Yaargh.
They pressed a button. A baby mesh of words and symbols were cast, birthing an OS into the deep. According to legend, the developers spoke a series of incantations, transforming this OS into the mythical beast it is today. Read this tome if yer yearnin' to learn more of how Pop!_OS came to be.
ATO 
Days after the very first Pop!_OS release—first of many—the crew arrived at All Things Open, a festival of gathering spirits with a knack fer gizmos an' such.
Five years to the day, the crew returns to greet the spirits once more for ATO's 25th anniversary. To celebrate, four computers and a custom-designed accent awarded to the most spirited of spirits.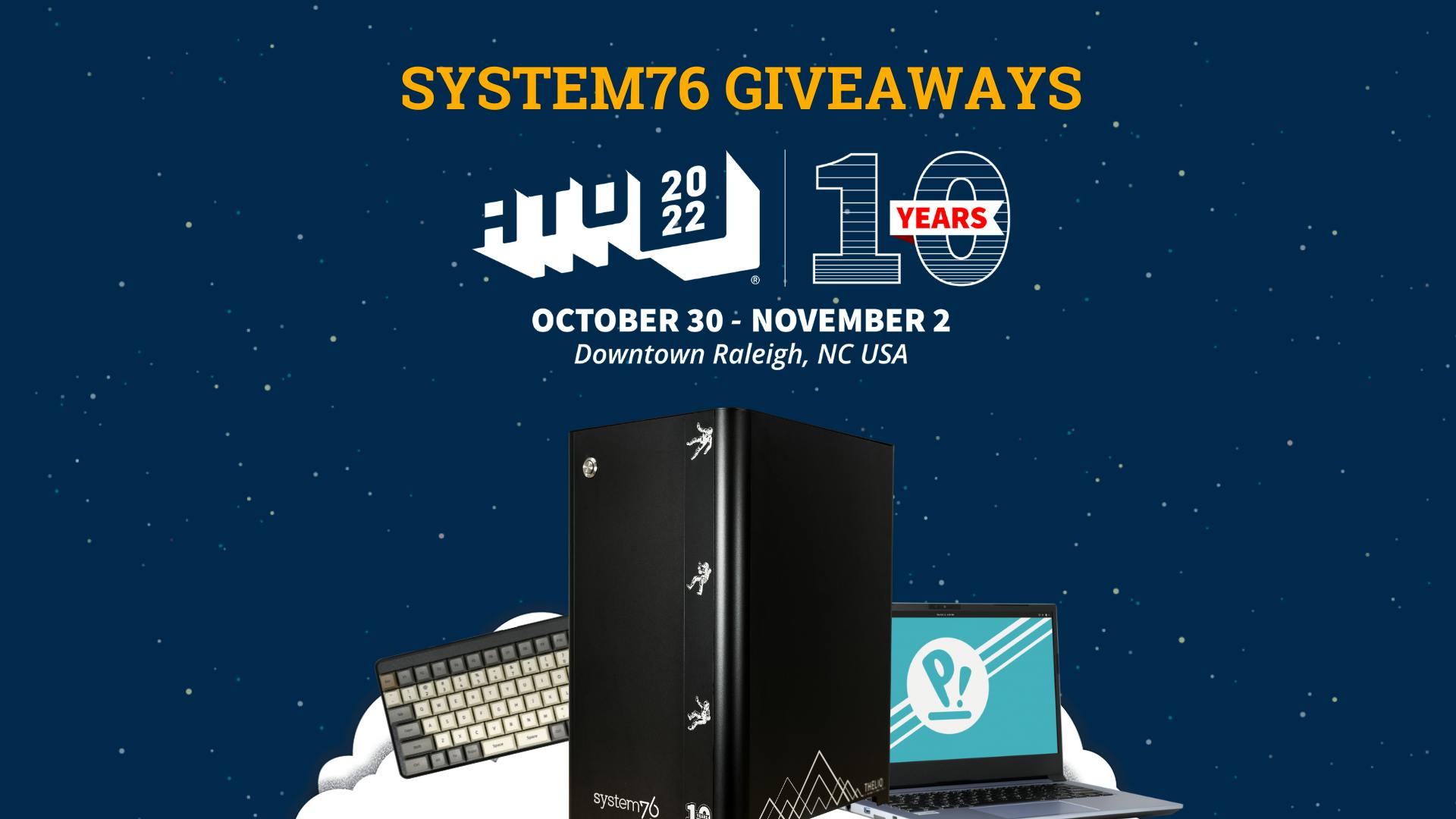 Pop!_OS now supports AMD Ryzen 7000
In a dark n stormy castle, or perhaps a sunny factory in Denver, a brigade of robots runs a series of experiments.
An' then: A discovery! The robot's monster, small and mighty, was successfully given a mechanized brain. This brain, an AMD Ryzen 7000 CPU, has become compatible with Pop!_OS.
COSMIC DE
There be rumors that this Pop!_OS be seein' some upgrades of its own. Them people whisper in the night, spinnin' tales of version 22.10—but I know the truth. Pop!_OS be skippin' its 22.10 upgrade this year fer somethin' far more powerful: The COSMIC DE. 'Twould be quite some time 'til she's ready to go, but Pop!_OS will remain on 22.04 LTS for the time bein'. Yerrr.
Pop!_OS COMPUTER SALES
Aye, here be the spookiest tale of them all: System76 is building an army of beasts. Er, rather, their users are. Prices vanish like ghosts in a fog; if yer fishin' for a beast of yer own, ye can save up to $470 on a laptop or up to $2200 on a desktop. It be a true choose yer own adventure.
But that ain't the end of it, no sir. Them beasts with new mechanized brains be savin' ye doubloons as well. Save up to $700 on Thelio Mira with AMD Ryzen 7000, or up to $765 on Thelio with 13th Gen Intel. If ye can't decide, lower yer sails, and leave yer fate in the hands of the seas. Tomorrow be the last day to save.
HP Dev One on Sale
Let me enlighten ye of System76's first venture as an OS vendor. In collaboration with an entity known only as HP, Pop!_OS was granted the software captain of a dedicated hardware ship: The HP Dev One. Aye, the Dev One is not yer run-of-the-mill hardware, neither. 'Tis a powerful laptop worthy enough to wield the Pop!_OS sword.
A message in a bottle washed ashore, telling tale of an upcoming sale:
Bundle & Save $142 with the purchase of a Dev One Laptop & Launch keyboard with code LAUNCH142.*
The bottle also contained a note with some smaller handwriting. Yaargh.
*Valid only in the U.S. at www.hpdevone.com. Offer valid through 11/4/2022 or while supplies last. Limit one per customer, per transaction. Offer has no cash value, is not transferrable and cannot be combined with any other discounts. Not retroactively valid on previously purchased items. To redeem, add HP Dev One laptop and System 76 Launch keyboard to cart and enter code LAUNCH142. Offer is subject to change without notice. Discount is applied to PC at purchase. Contract and volume customers not eligible.
Sailors all over the two eligible seas just be given a strong tailwind to the Dev One treasure, but only 'til November 4th.
Thank ye fer hearin' me spooky tale. Stay safe, stay dry, and have yerselves a happy Hallerween! Yo ho ho ho ho!