UYPP: Cameron Nagle's Starting Small Podcast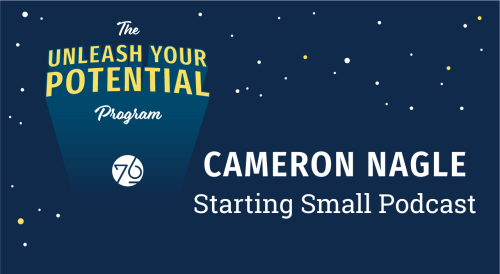 The System76 Unleash Your Potential Program selected six winners this year to receive a System76 computer to help them pursue their next project. This week we spoke with UYPP winner Cameron Nagle about the Starting Small Podcast, in which he hosts, records, and edits interviews with CEOs from all walks of life.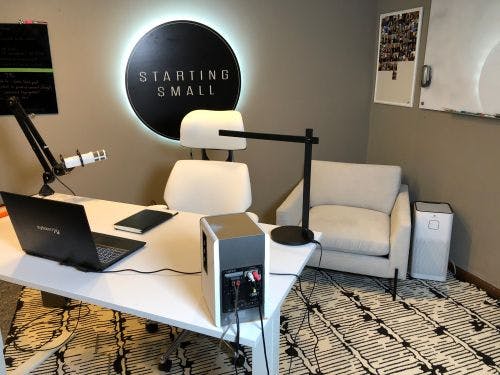 Tell us about the Starting Small Podcast.
I started Starting Small pre-COVID. When we launched in 2020, my plan was to tell stories of entrepreneurs and their upbringing, education, and the story of their overall brand. I had my first guest Chuck Surack out of Indiana, the CEO of Sweetwater Sound, a music retailer. That set my guests at a pretty high caliber from the start, because Sweetwater Sound is the largest music retailer in the world.
Once COVID struck, I had to figure out a way to interview remotely, and that's what allowed me to really branch off and connect with these amazing entrepreneurs from across the globe like Reebok, North Face, Cards Against Humanity, and more. And ever since then, the podcast has been going great. My audience—and myself at the same time as a business student—has been able to learn so much from these entrepreneurs. My own personal network has grown exponentially, and I'm connecting with people I normally wouldn't have been able to connect with without this podcast.
There's a lot of people here who would be interested in hearing that Cards Against Humanity interview.
Max Tempkin was an amazing guest, a very early guest of mine. He has a really cool story.
Are you looking to move to in-person interviews?
My initial thought was to interview locally because I didn't really know much about Zoom when I first started the podcast. Originally I was going to keep my interviews to a two-hour radius from my home, but my plan now after having some success interviewing remotely is to continue doing it remotely, as long as I'm still connecting to these executives and they're open to it. There are some circumstances where I might drive or fly to a guest if the opportunity arises, but remotely it's been going great and it's super efficient for both myself and the guest.
What's your process like for recording and editing the podcast?
For recording, I use my System76 Oryx Pro laptop. I have the guest log in to Zoom on their end and I log in on my end, and I record both sides of the audio. Once that's recorded, we post-edit the episode and make sure the guest is okay with what they stated and the sound and everything, and then we bring it into our podcast host, which distributes everything to all the platforms. We use Podbean to distribute all of our episodes. We upload the audio and then all the copy that we want the descriptions to say, and then from there we can track all analytics and progress, and how many listens and downloads we're getting.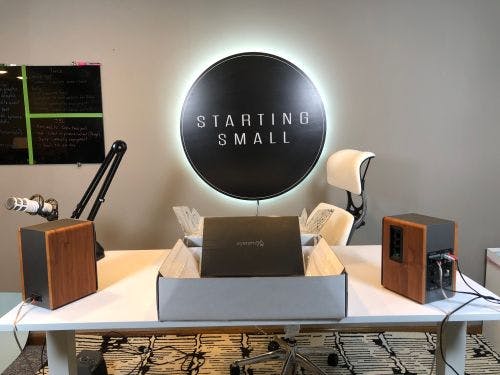 What software do you use?
We record in Zoom. For editing we are currently using Pro Tools. Because I'm new to the Oryx Pro I'm still trying to figure out the editing software. After the interview I'll take the audio and go into Pro Tools, edit, and go back in for distribution.
Is there someone who works on the podcast with you?
We have two other team members on our team. Gabby manages our social media accounts, and Kylie does PR. It's been an amazing ride so far, and a ton of fun.
Why did you choose the Oryx Pro for this project, and how do you like it so far?
One of my friends actually owned an Oryx Pro, so I've used it in the past. What I recall is my own personal laptop that I had was so laggy and not up to speed when I had multiple documents open and different files open.
When I received the Oryx Pro, I was able to do multiple tasks at once, such as having multiple documents open to read for our show notes, having one of our host platforms open, having Zoom open, etc. That allows me to have much more bandwidth on this one laptop than any other laptop that I've ever used in the past.
How was the setup process for you?
The setup process was fairly easy. When I powered it on, the instruction walkthrough was pretty self-explanatory. I went into the settings to add a couple custom shortcuts, but other than that the setup of the laptop is very much how it would be if you were to just turn on an Oryx Pro. For someone who just buys their laptop, it's pretty much ready for them out of the box.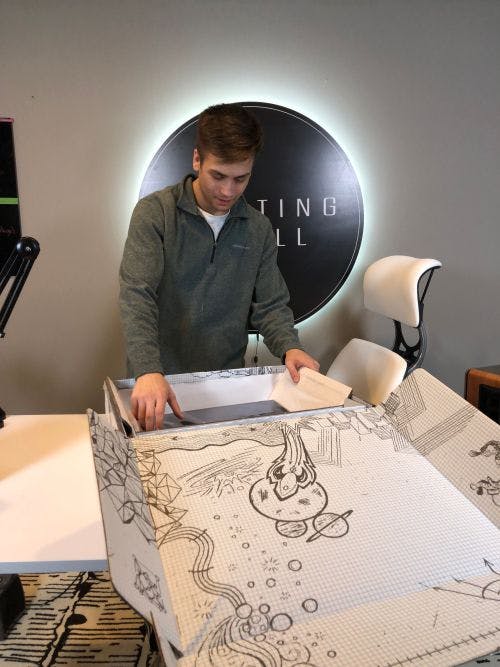 How much experience do you have with Linux?
I don't have too much experience myself recently before I received the Oryx Pro, but my family did have a mixed desktop growing up. I recall using my brother's computer, I would play some games on their Linux system back in the day. I am fairly familiar with the software and how Linux runs, but it has been a while. I switched to Apple a few years ago and then switched back.
What's next for the Starting Small Podcast?
We are working on transforming our podcast from audio-only to incorporating video, in order to hopefully draw in a larger audience that prefers video content. So that is definitely the next step for us. Following from there, we would be very interested in joining a network such as an NPR or other podcast network that acquires shows and be part of that network.
Where can people go to follow the podcast online?
On Instagram we're @StartingSmallPod, and the same thing for Facebook. For listening to the episodes you can go to almost any streaming platform that hosts podcasts, such as Spotify, Apple podcasts, Pandora, and more.
And where can folks listen to your interview with System76's own Carl Richell?
Right here!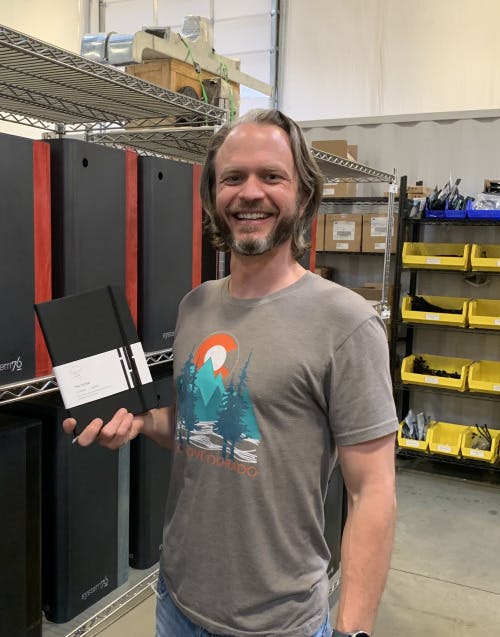 Carl's certainly happy with his new Starting Small Podcast notebook!
Stay tuned for further updates from Cameron Nagle's Starting Small Podcast and cool projects from our other UYPP winners!